Toronto is known for its diversity of cultures, people, and perspectives, but it's especially renowned for its food! A short stroll along any downtown street can lead you past scents, sights, and dishes from around the world. Today, we'll be taking a look at four food hotspots in downtown Toronto, each with its own history and culture. We'll be exploring what makes these places so unique, and pointing out notable locations that you should visit. Let's dig in!
Kensington Market
Known as one of the most multicultural locations in downtown Toronto, Kensington Market has always been a food hotspot and the epicentre of the mixing and mashing of different cuisines. It's known for its Victorian architecture, artistic displays, and vintage feel. It sits on the traditional territory of the Haudenosaunee, the Huron-Wendat, and the Mississaugas of the Credit. In the 1800s, it was purchased by George Taylor Denison, who transformed it into a residential area mainly made up of middle class British and Irish immigrants. The demographics of the area shifted when many Jewish immigrants arrived in the early 1900s. Due to discriminatory laws and anti-Semitic persecution, Jewish people struggled to open traditional businesses, Jewish individuals could only open stalls and small shops in front of their homes. This was the origin of the unique open air marketplace. 
During the 1960s, immigrants from all over the world (Eastern Europe, China, India, Portugal, the Caribbean) flooded into the neighbourhood. Despite some gentrification, the market continues to be openly accepting of new immigrants, cultures, and cuisines. 
The Market is known for its fusion eats that combine the flavours of worldwide cultures. There's Rasta Pasta, which combines Jamaican and Italian cuisine through mouth-watering dishes, or the Eative Film Cafe, which gives the traditional cafe breakfast meal a Japanese street food twist! The Market also has a strong focus on Spanish and Mexican cuisine. El Trompo and Seven Lives are well known for their tacos, while Toteria San Cosme serves delicious tortas, a special type of Mexican sandwich. There's even some very special stops, like the Pow Wow Cafe, which specializes in Indigenous cuisine, or Wanda's Pie in the Sky, which serves handmade fruit pies and desserts!
Pow Wow Cafe (Image Source: blogTO)
No matter where you wander in Kensington Market, you're sure to find a taste that can expand your palate and change your expectations about traditional food pairings.
The Junction 
Founded in 1884 as a village, the Junction eventually became the City of West Toronto before joining into the City of Toronto in 1909. It's located north of Annette Street, south of St. Clair Avenue, east of Runnymede Road and west of the Canadian Pacific Railway/Canadian National Railway line. Originally where two First Nations trails intersected, railway tracks soon followed. Hotels and taverns were built to accommodate the large number of male labourers, whose unruly behaviour led the residents of the City of West Toronto to ban the sale of alcohol in 1904. It was not until the Vesuvio Pizzeria and Shoxs Sports Saloon fought for the right to serve alcohol again in 1998 that the probation was lifted. 
The Junction (Image Source: Julie Kinnear Team)
The Junction has always retained a sense of its small-town feel and has continued to be a thriving centre for business. With much of the original architecture intact, this vibrant business area offers much to see, eat and drink. With a full kitchen and beer made on-site, Indie Alehouse, owned by Jason Fisher, has become one of the most popular brewpubs in Toronto. 
Fisher was born into a family that brewed beer and, at the age of 16, he first started home brewing for a high school science project. Working in the business and marketing sector to save money, Fisher eventually opened his own brewpub in 2012. While there was another brewery located in the Junction when they opened, there weren't any other brewpubs in town. Their lineup back then included three sour beers, three barrel-aged beers, a couple of English and Belgian beers, and single, double and triple IPAs (India Pale Ales). The list of beers they served was uncommon in Ontario, though other places around the world were doing something similar to what Fisher was doing. Indie Alehouse prides itself on being experimental and open-minded when it comes to its beers.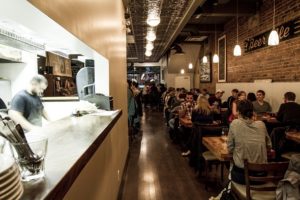 Indie Alehouse (Image Source: blogTO)
In the interview, Fisher emphasized that there are no shortcuts in getting into the brewpub business, as it requires paying equal attention to the food and the beer. Indie Alehouse excels at both, with its bestselling IPAs and customer-favourite fried chicken and burgers. Although the past year and a half have been rough, Fisher adapted by selling beers to the LCBO. He explained that he would have eventually made the transition to selling online, but the pandemic accelerated his decision to do so. They sell beer on-site in Eataly as well. 
If you would like to have a beer and a good time, check out https://indiealehouse.com.  
Dundas West/Little Portugal
This downtown area started as a spot for Portuguese settlers in the 1950s, with populations rising in the 1960s and 1970s. Immigrants arrived from across the Portuguese diaspora, including countries like Brazil, Angola, Cape Verde, and Mozambique. 
Due to gentrification, some of the traditional residential areas have been removed from the region in place of more urban developments. Moreover, many original settlers have moved out to find better financial opportunities and cheaper housing in the suburbs of Toronto. However, the location still retains its traditional Portuguese flair, mixing the old and new. If you take a stroll down the street today, you'll notice beautifully decorated walls and murals, art galleries and music clubs, as well as bars and a thriving nightlife scene. 
Portuguese Tarts (Image Source: blogTO)
The community is known for its combination of both traditional and modern foodie locations. The streets are lined with traditional Portuguese eateries and bars but recent years have seen the rise of upscale restaurants and locales. Stop by Nova Era, Caldense Bakery, or Brazil Bakery to taste some sweet Portuguese treats, or the Bairrada Churrasqueira Grill for a family-style sit-down meal. The Chiado Restaurant or Via Norte is a great treat for fine dining. There's also a great variety of non-Portogenuse eats to be found here — check out SoSoFood Club for a Chinese dining experience or Enoteca Sociale for Italian specialities!
Little Italy 
At the end of the nineteenth century, a large population of Italians began immigrating to Toronto. Italians occupied four major settlement areas in Toronto; the largest and most notorious is located in the area of the city then known as "the Ward" (bordered by Queen Street West, University Avenue, College Street and Yonge Street). A second new Italian neighbourhood emerged further north and to the west of the Ward, near Davenport Avenue. The third and smallest settlement developed east of the Ward around the intersection of Queen Street East and Parliament Street. The fourth settlement formed around College Street, creating the heart of what is known today as Little Italy. This area was bordered by College Street in the north, Dundas Street in the south, Grace Street in the west and Euclid Avenue in the east. 
Little Italy (Image Source: Destination Toronto)
The padrone system, a network of Italian labour brokers, recruited Italians to come work for North American employers, which was in part why so many Italians, largely unskilled labourers from economically depressed regions in southern Italy, found themselves in Toronto. However, the system was corrupt and used deceptive tactics and inflated fees. Italians played a huge role in the industrialization of the city, working in construction and on the railways.
Although this neighbourhood is now more diverse, with more Portuguese, Chinese and Vietnamese residents, Toronto has one of the largest Italian populations of any city outside Italy. There are plenty of Italian restaurants for food-lovers to try. Take Sotto Voce and the newly-opened Zitto Zitto Taverna, both owned by Anita and Alan Thomson. 
Anita's parents worked in the hotel and restaurant industry in a small town, and Alan was a bartender in Montreal. Anita and Alan met in the early 90s, and they hung out at their favourite bar, Sotto Voce. In 2000, they had the opportunity to purchase it, where they turned it from a bar to a restaurant, then to a bar-restaurant. Sotto Voce is an inexpensive and casual place to eat, with lots of different wines to try by the glass. The menu is called Casalinga, which means "the way we eat at home." Anita describes it as coming over to have dinner at her home, except her home happens to be a restaurant. 
What keeps customers coming back time and time again is the experience Sotto Voce provides for them. Anita wants the customers to leave the restaurant saying "I had the best night" and "I had so much fun," rather than simply saying, "The cocktails there were really good." Clients get to know the staff, and the staff get to know them. Once you come, you'll keep coming back, because now you're part of the #sottofamily. The support from their community and client base is what is allowing the restaurants to bounce back after the most recent lockdown. 
Sotto Voce in the winter time (Image Source: TripAdvisor)
Their second restaurant, Zitto Zitto Taverna, is located next door. When Gian Carlo, a fine dining restaurant that had been there for over 30 years, decided they weren't going forward due to the pandemic, the Thomsons bought the space. Despite the idea of opening a restaurant during a pandemic being what Anita would call "crazy," it seemed natural for them to take over. It was a way to survive the lockdowns, as more space meant they could serve more customers. It also acted as a big sister to Sotto Voce, as Zitto Zitto Taverna maintained the same values and vibe as the former restaurant, but its focus on casual fine dining meant that it could afford to be a little higher end. This restaurant has a full kitchen, a chef from Italy, and a grill, which they didn't have in their first restaurant. 
One of the things the Thomsons are most proud of is that they help develop their staff. By helping their young staff achieve their dreams — whether it's finishing school, getting into business, starting their own business or getting into the film industry (their restaurant is popular with those in the music and film industry) — they maintain a family of people who still support them, even as they move on to different jobs and careers. 
If you'd like to check out their restaurants, visit https://sottovoce.ca and https://zittozittotaverna.ca. 
Bon Appetit!
The next time you're in one of these food neighbourhoods, give one of these restaurants a try! Each comes with its own unique history, and you wouldn't want to miss out on what makes Toronto a truly diverse and flavourful food capital.