It's 1944. Air raids happen nightly, The radio reports bombings, battles, and deaths. Where there were once young children playing soccer in the streets, now there are tanks and soldiers. Where there were once countries' flags, now there are swastikas. As Adolf Hitler sends orders of new attacks against The Allies, a white mouse sneaks past German guards into enemy territory, carrying the weight of World War II on her shoulders, or rather- her words. Her mission, as an allied spy, is to ask for new codes for the upcoming D-Day battle since she had to swallow the last ones.
This white mouse as she was so notoriously called, was Nancy Wake, one of the most decorated allied soldiers, and the most decorated female spy of WWII. In 1944, she was at the top of the Gestapo's most wanted list, and was pivotal to the allied win in 1945.
Nancy Wake (Image source: Wikipedia)
Wake began her career at the age of 16, as a nurse. At 20, she moved to Wales, and after some travelling around, she finally ended up in London, working as a journalist with 200 Euros to her name, which has been borrowed from her aunt. Soon thereafter, Nancy moved to Paris, France, and continued her work as a freelance journalist.
At 21, Wake was a brazenly young and attractive newcomer in Paris. She engaged in the decadent social life of Parisian bars and clubs, she had many life-altering job opportunities, such as interviewing Adolf Hitler. This exchange wasn't well documented, but a decade from that first encounter, Mr. Adolf Hitler would do just about anything to be face-to-face with Wake once again. During this time Wake also witnessed the beginning of the National Socialists party terrorizing and attacking Jews in the streets of Vienna. This event was critical to Wake's motivations in starting her career as a spy, as she drew on these abhorrent anti-semitic experiences to spur her fight against the Nazi party. It was on this occasion that she "resolved there and then that if I ever had the chance I would do anything to make things more difficult for their rotten party". (Quote)
In 1936, she met a wealthy French industrialist named Henri Fiocca, and they wed and settled three years later in Marseilles. Her new husband's connections and associations to affluent socialites in the community were very helpful when Wake became a spy.
Nancy Wake and Henri Fiocca (Image source: Pinterest)
Wake was continuing her life as a French socialite when she stumbled upon Ian Garrow, a Scottish Captain who worked to deliver officers and airmen from Vichy, France into Spain. Because of this chance meeting, she became a courier for the escapade; she had perfected French during her time in Marseilles and so she delivered everything from top-secret coded messages, to technical radio equipment, and was known for using her beauty and charm to her advantage, openly flirting with the guards to sneak past. During these numerous missions Ian Garrow was arrested. However, Nancy rescued him by bribing a guard.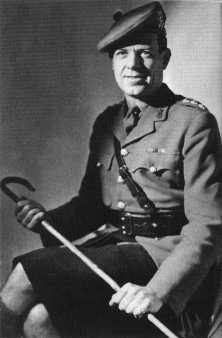 Ian Garrow Image source: Stories and Musings)
However, in 1942 the Germans invaded Marseilles and became aware of the White Mouse's presence. Henri — who was also involved with Garrow's courier mission by way of financing — urged Nancy to flee Marseilles, as the Gestapo were closing in (her phone calls had been intercepted and mail opened). Nancy left Henri, their plan being to reconnect in England.
Nancy made several attempts to flee, but to leave she had to pass through several German checkpoints. Eventually Wake was captured, then arrested for the first time. She underwent four days of brutal interrogation, so when Patrick O'Leary — Ian Garrow's predecessor — walked in, she was nothing short of flabbergasted. O'Leary announced that he was of close amicability with Pierre Laval, the Vichy premier and that Mme. Fiocca was in fact his mistress, and the story that she told them was just a cover-up so that his wife wouldn't find out. The police bought his story and released Nancy. Patrick O'Leary, whose real name was Albert Guerisse, was a Belgian army doctor. After this, Wake was placed at the top of the Gestapo's most wanted list, with a reward of 5 million francs on her head.
Albert Guerisse (Image source: Traces of War)
Her final and only successful attempt at escape after this was straight out of an action movie. Picture this: an alluring young woman, long hair flowing in the wind, leaping out of a train window and into a vineyard. As she runs, bullets go whizzing past her and just miss her fleeing body. After this, she meets guides who hide her in the back of a coal truck, delivering her to Spain before, reaching Gibraltar by way of convoy in 1943.
In Britain, she became an agent of the "Special Operations Executive", where she was trained in all things spy: hand combat, how to use weaponry, morse code, and survival skills. Within eight months, she was a fully trained agent of the SOE.
Now an agent, she was ready for combat — just in time for some of the most pivotal final battles of the war. She was parachuted into central France on April 29 of 1944, but her chute got caught in a tree! As she dangled from the branch, Henri Tardivat, another resistance fighter, greeted her by saying, "I hope that all the trees in France bear such beautiful fruit this year." Wake responded with "don't give me that french s**t. "
Henri Tardivat (Image source: Special Forces)
Now in Auvergne, she worked as a liaison between Tarvidat's maquis group and London, and was in charge of finances and bringing in new equipment. While still in this role, she took it upon herself to enlist new members for the group and formed a Maquis army of her own, a force of over 7,000 soldiers. Her group was called to attack many enemy bases, and even fought a battle at the headquarters against about 22,000 German soldiers. The Germans suffered about 1,400 casualties at the hand of Wake's army, where they only lost 100.
During this time, Wake was also credited with many other unbelievable feats, including killing a german sentry guard with her bare hands during a raid so that he wouldn't pull the alarm. She also was responsible for ordering the execution of a Parisian woman whom she believed to be suspicious.
Wake's biggest stunt occurred just before D-Day. The Auvergne Maquis attacked German factories and communications, coinciding with the Normandy landings. The Germans counter-attacked but were unable to stop the Maquis bombings. However, they were able to do some damage, including cutting Wake's communication with London. Her wireless operator, expecting she was captured, burned the code books, leaving them without some of the most vital codes of the D-Day operation. In order to re-establish contact, Wake rode her bike over 700km in 72 hours, through German territory the whole time. "When I got off that damned bike I felt as if I had a fire between my legs," she said. "I couldn't stand up. I couldn't sit down, I couldn't walk. When I'm asked what I'm most proud of doing during the war, I say: 'The bike ride." These codes were essential to the D-Day victory and were saved by none other than the White Mouse.
Nancy Wake (Image source: Subpages)
For the remainder of the war, Wake was involved in minor but crucial attacks against the Germans, including blowing up bridges, railroads, etc.
The war ended on September 2, 1945, but with news of victory also came news of anguish: Nancy Wake's beloved husband Henri Fiocca was tortured and killed just after she fled Marseilles, after he refused to tell the SS her whereabouts.
After the war, she continued her career in intelligence and eventually found herself in politics, though she was never elected to any office. She then spent about five years as an intelligence officer in the department of the Assistant Chief of Air Staff at the Air Ministry in Whitehall. She was awarded the George Medal, Britain's second-highest civilian honor, and the Medal of Freedom, the United States' second-highest. France gave her the Legion d'Honneur, their highest military honour. In 1957, she married John Forward, an officer in the RAF, and retired. In 1960, they moved to Australia, where she once again ran and lost an election. In 1997, her husband died, and she decided to move back to London for good. She became a permanent fixture at the Stafford Hotel bar, a place that attracted many ex-resistance fighters, including Louis Burdet, the general manager of the establishment.
Nancy Wake in 2004 (Image source: New York Times)
On August 7, 2011, Wake died of a chest infection at the age of 98. Her ashes were scattered over the mountains where she fought in the resistance.
Not only was she an extraordinary soldier and spy, but she was a feminist like it was no one's business. At one point she was quoted saying, "I don't see why we women should just wave our men a proud goodbye and then knit them balaclavas." Not only was she a firm believer in women empowerment and in equal opportunities for women and men, but she convinced those who didn't agree through her exemplary actions. "She is the most feminine woman I know, until the fighting starts. Then she is like five men." said Henri Tardivat.
The fact that she is so unrecognized is an absolute mystery to me: she's a war-hero, and a trailblazer who undoubtedly changed the world. Her sacrifices and bravery should never be forgotten, not only as a World War Two survivor, but as one of the greatest feminists our world has seen. She crossed boundaries between fighting countries and defied gender stereotypes and roles. Nancy Wake was a powerful woman who was a force to be reckoned with — the perfect example of a femme fatale who left her mark on our world forever.