As the COVID-19 pandemic sweeps across the world, our society and usual way of life has been completely altered. The security and stability we once enjoyed is gone. All of us are isolated and stuck inside the concrete boxes of our homes.
Even as we stay inside, listening to music can help make it through long days in quarantine. According to the Music Listening 2019 study conducted by IFPI, an organisation that represents the interests of the recording industry worldwide, people typically spend 18 hours per week or approximately 2.6 hours per day listening to music. Moreover, more than 54% of the study respondents state that they "love" or are "fanatical" about music. In Canada, people are very passionate about music – 59% of Canadians in the study identify themselves as music lovers or music fanatics.
While many of us rely on music to keep them sane and calm during this pandemic, many Canadian music artists and companies are struggling to navigate this new world order.
The Impacts of COVID-19 on the Canadian Music Industry
The music industry has been hit by this pandemic particularly hard. The industry heavily relies on travelling and gatherings of people, so when this is not permissible, the ability to generate profit almost disappears.
JUNO Awards 2019. (Image Source: FYI Music News)
Canada's music industry felt the first impacts of COVID-19 with the cancellation of the JUNO Awards 2020 just a few days before the JUNO Week was set to begin in Saskatoon in March. The Juno Awards is one of the biggest annual music gatherings in Canada that honours the great talent of Canadian musicians and brings the music community together. In a statement, the event organizers said: "We are devastated to cancel this national celebration of music, but at this time of global uncertainty, the health, safety and well-being of all Canadians must stand at the forefront of any decisions that impact our community."
Alessia Cara at the 2020 JUNO Awards nominee press conference. (Image Source: Globe and Mail)
Many artists were saddened by the cancellation. Alessia Cara, who was set to host the 2020 Juno Awards on March 15, and received six JUNO nominations this year, said in a tweet: "I'm so sad (as is everyone putting together the show) but it wouldn't be safe or smart to put thousands of people in an arena right now."
Another heavy hit for the Canadian music scene was the postponement of the Canadian Music Week (CMW) that was planned to take place in May in Toronto. The CMW is a music industry conference and festival that brings together more than 3,000 national and international music professionals and artists, and offers them lots of showcasing, learning and networking opportunities. The CMW is now set for the beginning of September.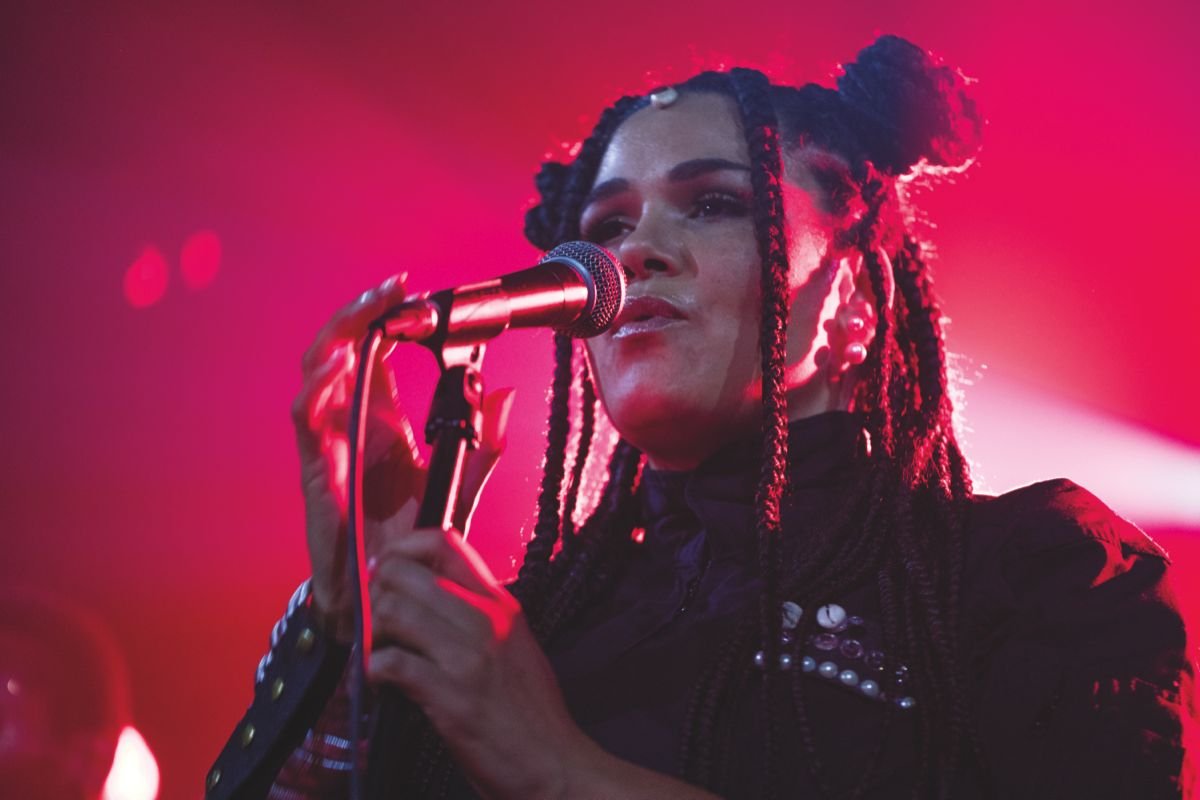 Zaki Ibrahim showcasing at CMW 2019. (Source: NOW Magazine)
Similarly, the Society of Composers, Authors and Music Publishers of Canada (SOCAN), a Canadian performance rights organization, had to cancel the SOCAN Awards that were scheduled to take place on March 30 in Toronto. The Canadian Folk Music Awards, scheduled for April 3 and 4 in Charlottetown, P.E.I., were cancelled, too.
With numerous event cancellations, travel restrictions and social distancing measures, the revenues for many music artists and companies were significantly diminished. Music Canada and CONNECT Music Licensing partnered to conduct an Artist Impact Survey to better understand how COVID-19 is affecting music artists. Almost half of the survey respondents stated that they lost more than 75% of their income.
Similarly, the Canadian Independent Music Association (CIMA) conducted a survey to measure the impact of COVID-19 on the Canadian music industry. Out of 3,000 respondents, the vast majority (97%) stated that the global pandemic has had a negative effect on their business. According to the survey, some music companies estimate needing to lay off 75-100% of their employees. The survey respondents stated that they will be able keep their business operational for no more than six months, and only 4% will be able to sustain their business for a year.
Canadians Coming Together While Staying Apart
Every crisis brings new opportunities for innovation and collaboration. To survive the financial hits arising from this pandemic, the Canadian music industry needs to come together as a community in order to help and support each other.
On April 15, the Government of Canada announced that it will provide $500 million to establish a COVID-19 Emergency Support Fund for Cultural, Heritage and Sport Organizations. The fund aims to "address the financial needs of affected organizations within these sectors so they can continue to support artists and athletes."
Similarly, big arts and culture funding agencies like FACTOR, Canada Council for the Arts, Ontario Arts Council and many others created amendments to their programs to better accommodate artists and music professionals whose music activities were disrupted by COVID-19. Some of them created emergency support funds, like the Toronto Arts Council, which started the TOArtist COVID Response Fund for Toronto artists to help them cover lost income. Unfortunately, this fund experienced high demand, with 1900 applications submitted, and is now suspended.
COVID-19 Music Relief (Source: Spotify)
In addition, the Unison Benevolent Fund, an organization providing mental support and financial assistance to Canadian music professionals, joined Spotify's COVID-19 Music Relief Project, a project that strives "to amplify the efforts of organizations that focus on helping those most in need." With Spotify's pledge to match every donation made to Unison up to a total of $10 million, the Unison COVID-19 Relief Program will be able to better address the demand for financial assistance in the Canadian music community. Music fans can make a donation; you can do it through their Donation page.
SOCAN started another great initiative to support the music community. In the beginning of April SOCAN created a $2 million Emergency Relief Fund to support its musicians whose ability to earn revenue suffered as a result of COVID-19. "SOCAN has our members' backs," said Eric Baptiste, CEO of SOCAN. "Getting funds to struggling members as soon as possible is of the utmost importance, and we will do whatever we can to help."
Shawn Mendes and Daniel Caesar at the 2018 SOCAN Awards. (Source: Twitter)
The National Arts Centre has also teamed up with Facebook Canada to launch a short-term $100,000 relief fund #CanadaPerforms that will pay Canadian artists for their live online performances. This initiative aims to fill the gap in showcase opportunities due to closing of performance venues across Canada. The campaign was kick-started with a performance by Jim Cuddy, a member of the rock band Blue Rodeo.
"Bringing amazing performing artists to Canadians is what we do at the NAC. Having to cancel and postpone so many performances has been heartbreaking, but we hope this collaboration will provide some short-term relief. Canadians are at home, fighting isolation and loneliness," said Heather Gibson, NAC's Executive Producer of Variety & Popular Music.
Jim Cuddy. Source: (Globe and Mail)
The future artist lineup includes Lydia Persuad, Crystal Shawanda, Asuquomo, G.R. Gritt and many other incredible artists. The full schedule can be found here.
Music Can't Be Quarantined: Going Digital
Similar to the National Arts Centre's Facebook Live initiative, some music artists and companies have begun to utilize the digital space as an avenue for their business and creativity.
For example, Canadian music labels are working as hard as ever, using Zoom to plan their daily operations. The 2020 Canadian Folk Music Awards moved their Awards ceremony online. The Canadian Independent Music Association (CIMA) started hosting their events virtually and have successfully organized two webinar sessions, "COVID-19: Implications For Employers" and "Mental Health In Music: Town Hall Discussion."
The strict social distancing measures couldn't stop artists from creating new content. The Arkells, a rock band from Hamilton, Ontario, has been giving "Flatten the Curve" music classes so that their fans can practice social distancing and have some fun and productive time at home at the same time.
iskwē – "Live from My Living Room" Series. (Source: Facebook)
iskwē, an award-winning Indigenous singer-songwriter, started to host a series of Instagram live conversations titled "Live from My Living Room." The series features different guests from the music and cultural industries. Meanwhile, the Trews, a Canadian hard rock band from Antigonish, Nova Scotia, made a new music video for their song "God Speed Rebel" using the Zoom app.
Many musicians are now going live on social media and offering great music performances. While Julie Nesrallah, an opera singer and host of CBC's Music Tempo, cannot perform on stage any longer due to social distancing measures, the balcony in her Toronto apartment works just fine. Julie made an opera performance from her balcony and shared it online so that people could enjoy a beautiful serenade from the comfort of their home.
Julie Nesrallah singing "O Sole Mio" from her balcony. (Source: YouTube)
Since the beginning of the lockdown, Grammy-nominated and multiple Juno Award-winning Canadian R&B artist Jessie Reyez went live several times to keep her fans entertained. Jessie teamed up with Jameson Whiskey to do a live performance for her Before Love Came To Kill Us album release on her YouTube channel on April 1. Jessie also collaborated with NYX Cosmetics Canada and went live on their Instagram profile on April 11.
Jessie Reyez – Before Love Came To Kill Us: Album Release Live Stream Performance (Source: YouTube)
If you are interested in enjoying more live music performances from talented Canadian musicians, check CBC's list of Canadian live streams to watch during COVID-19. They keep the list up-to-date!
Let's not take Canadian artists for granted and appreciate all the hard work they do to support us during this pandemic! Music fans can do their part to help Canadian artists. If you have tickets for a live show that was cancelled, consider donating them instead of requesting a refund. Buying artist merchandise, albums, singles and posters can help a lot, too. Simply sharing songs and albums online is a great way to show your favourite music artists some love.