Viktoria Modesta's song "Prototype" empowers viewers of all backgrounds to build an identity that elevates them, whether that be the identity one is given, or whether they strike out and create it themselves.
The United Kingdom's Channel Four, a news and human interest platform, partnered with the young singer to deliver this groundbreaking message in 2014. Her video for "Prototype" reached 10 million views on the Channel Four website, and another 1.5 million on YouTube after it aired during the X Factor 2014 finale.
In an interview with The Guardian, Modesta says: "I saw a lot of blank faces where people kind of went: 'I don't know what I'm supposed to say about this. Is it right for me to think you're cool and hot?" As the world's first 'bionic' pop star, Modesta shocks many viewers with the presence of her disability in the spotlight.
What is perhaps more surprising, is that it took until the shooting of "Prototype" for Modesta to feel her manifested confidence. The singer was born in Latvia, which was then part of the Union of Soviet Socialist Republics (USSR). Her leg was damaged during a complicated birth, which translated into a traumatizing childhood spent in hospitals – enough struggle to rob anyone of their confidence. After only two years in the formal system, Modesta dropped out of school, when she found a home in the alternative club scene in London. At the age of 15, Modesta wanted to amputate her lower left leg because was a reminder of her suffering, which did not reflect her self-image. She finally convinced doctors to operate on her at the age of 20.
"Prototype" served as a springboard for self-acceptance; a theme, though showcased four years ago, is still making waves in the disabled community. As a member of this community, it often seems like we are not included in conversations about representation within the media. Modesta's video was ahead of its time—showcasing her disability with brazen pride before representation for this group was a hot topic around the globe. Modesta's creative spirit is truly a prototype for the future of equality, turning age old viewpoints about disability and illness on their heads.
The music video opens with the eye-catching tagline, "Forget what you know about Disability," and a shot of Modesta sitting on an elaborate throne as she is injected with an unknown liquid. Her bored expression in the wake of a needle, and her pedestal, suggests she has risen above her highly medicalized past. The scenes slowly escalate from there, beginning with a wide-eyed child watching a cartoon version of Modesta, as the child rips the leg off of a doll to mirror her newfound idol. Then a schoolboy mischievously doodles a V for Viktoria on his desk despite a teacher's disapproving gaze. Later, a man gets a picture of Modesta etched into his skin. These images appear to have no connection to a larger plot—until the middle of the video.
The climax finally arrives when Viktoria is arrested by a group of secret service officers, and is taken to a room filled with James Bond-like lasers. She is shown pictures of the movement she created single-handedly; each person that appeared in the video before Modesta was a firm supporter of her ideas. They represented diverse populations, showing how far Modesta's movement reached.
When asked by an officer if she will take responsibility for her actions, Modesta remains silent. In one smug motion, she moves her prosthetic silver leg to redirect a laser beam onto her accusers forehead. In this moment, it is unclear whether she is a hero or villain. Her veiled head suggests she is at mercy to the unfortunate circumstance of her government trial. She is a hero rejecting a society that highlights her flaws as the only traits within her identity. She is a hero because of her differences, and her attitude surrounding her differences.
She is demanding society to understand that it is not her wrongdoing for being disabled, different, or risky. Different can be beautiful — different can be powerful. It is society's narrow-minded view on what is accepted as 'normal', or 'successful' that is causing destruction. It is that same view that creates need for for a progressive movement like the one Modesta champions.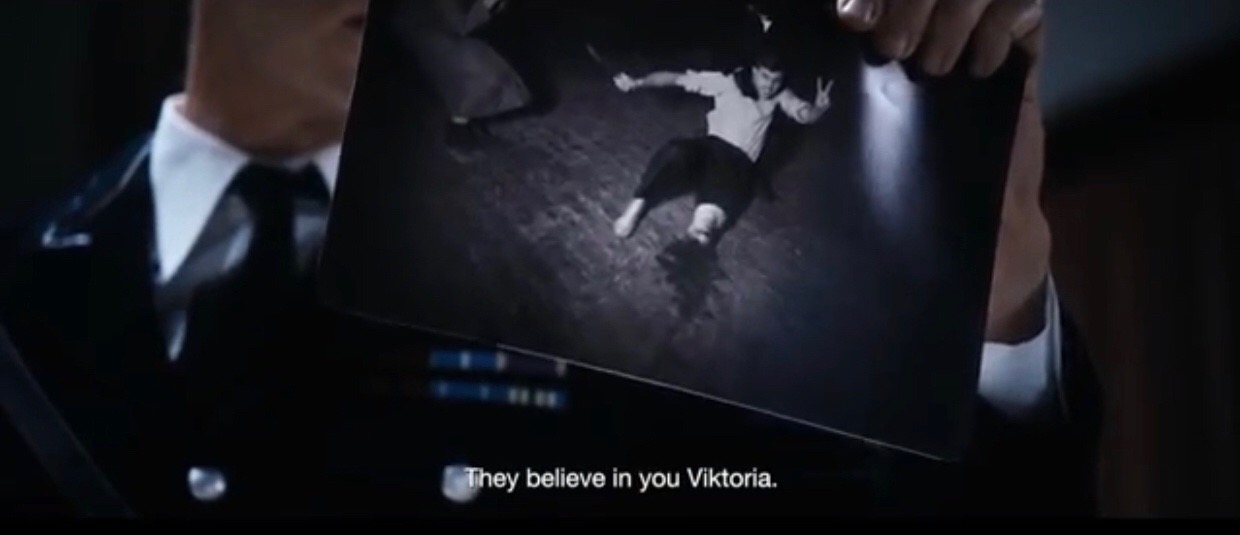 Evidence of Modesta's movement . (Image Source: YouTube)
A steamy scene between Modesta and a lover ups the immediate shock factor within the narrative. She is open about her sexuality. The video chronicles her personal growth and development as a member of the human race, not just a poster girl for the underrepresented disabled community. Moreover, Modesta, as well as other disabled individuals, have multidimensional personalities and interests beyond their physical or mental abilities. They too can be alluring, and have romantic lives. Like her attitude toward disability, this (may be) seen as progressive to some.
Another breathtaking aspect of this video is the wardrobe of prosthetics that Viktoria showcases, thanks to the Alternative Limb Project. The company originally only made products to cover prosthetics, but have since branched out to make art like Modesta's glowing, crystal, or spike legs that grab attention and may evoke envy in able-bodied people. Her colorful personality literally shines through this bionic attachment, that Modesta declares "is like the next level of power dressing". She showcases her spike leg in a alternative ballet dance that is performed with such skill, so it never comes across as tremulous, only eloquent. This scene truly sings Modesta's debut off with a bang.