Miriam Makeba. Fela Kuti. Mahmoud Ahmed. Burna Boy. All of these musicians are a part of Africa's expansive songbook. If the term "African music" was given out for the public to discern many may cite Disney's Lion King as their first introduction to the distinct drums, and singing that the continent is known for. Although no one can deny the beauty of the Lion King's soundtrack, it is just a small glimpse into the music that has come from Africa. After all, there are 54 countries in the continent, each with numerous ethnic groups and distinct cultures that influence the musical styling of the area. This article will be looking into the lives of these artists, what they mean to the people from their respective homelands, as well as their international influence.
Image Source: Britannica
Zenzile Miriam Makeba was born in March 1932 in the township of Prospect, South Africa. She had a long love for music and became a professional vocalist in 1954. Although she was well known amongst her people, she gained international status after her appearance in a documentary called Come Back, Africa. This Lionel Rogosin directed film used "street people" he found, including Makeba, to depict the lives of black South Africans under apartheid. The film had done so well that it led to her performing concerts in Europe and her eventual settlement in the United States. She brought the languages of her homeland, Xhosa and Zula in particular, to the world stage with her songs that were critical of the apartheid regime in South Africa. In 1977, Makeba performed the protest song, "Soweto Blues". The song deals with the 1976 Soweto Uprisings, a response to the decision made by the apartheid government to have schools teach using the Afrikaans language. The South African government reacted to Makeba songs in various ways. In 1960 she was not allowed in the country and remained in exile for 30 years. The South African government also "banned her music and revoked her passport" in 1963. Her determination to highlight the injustice of apartheid can be seen when she discussed the political influence in her music, "People say I sing politics, but what I sing is not politics, it is the truth.".
Makeba passed away in 2008 in Italy after suffering a heart attack. Her work not only helped to popularize South African music but also helps to demonstrate what artists are capable of doing when they stick to their truth. Also known as "Mama Afrika", Makeba is among the most well-known black African singers of the 20th century. For more information about her, click here. Click here to hear her song, known in English as the "Click Song".
Image Source: The Village, The Voice
Olufela Olusegun Oludotun Ransome-Kuti, better known as Fela Kuti, was born in Abeokuta, Nigeria on October 15th, 1948. A renowned musician, he perfected what many popular artists, like Drake, Daniel Caesar, or H.E.R do today: genre bend. This is when a song cannot fit into one category of music because the artist chose to mix different genres. Kuti's ingenuity to mix American jazz with traditional Yoruba music helped to create what is now known as Afrobeat music. Like Makeba, he too had a long history with music, learning how to play the piano and percussion music as a child. In his upper years, he studied classical music. When he moved to London he was introduced to jazz and rock. All of these experiences helped to create the Afro-beat sound that he is now known for. He participated more in politics after a tour in America in 1969, where he would become influenced by the Black Panthers and Malcolm X. A new phase would start for him, one where he would use his songs that dealt with the issues facing "the unemployed, disadvantaged, and oppressed." Other times, there would be songs targeting specific issues concerning Nigeria's military government, which led to him facing multiple arrests. Kuti's life not only broke the barriers between different musical genres but also demonstrates the power of the arts in affecting real change. For more information about him, click here. To listen to one of his more politically influenced songs, click here.
Image Source: Discogs
Mahmoud Ahmed is just one of the many singers that came out of the "Golden Age of Ethiopian Music (1950s-1970s)." Born in the nation's capital in May of 1941, he is well-known for his smooth vocals and songs that blend traditional Amharic music with jazz. Ahmed has been a prominent figure in the music scene within the country, and among those in the Ethiopia diaspora for over 40 years. Unlike other artists, he became popular in the country right from the start in the 70's and thanks to the Ethiopiques series, gained international recognition throughout Europe and America. He has sung nationalistic songs, as well as songs of love and heartbreak, joy and loss, under 3 different governmental powers in Ethiopian history: The Imperial era of the country, the Communist era of The Derg, and Ethiopia's current democratic government. As John Dougan writes, it is hard to explain Ahmed's vocal styling, which can bring people to their feet or transport them in their memories to the past. From personal experience, many in the Ethiopian community see him as the "Tizita Negus, the "King of Tizita." "Tizita," translated into English means something along the lines of "memory", "nostalgia" or "longing". The meaning of Tizita may be difficult to understand for those that are not within the community, but the closest western musical comparison would be to the blues or jazz. When Ahmed sings one of these songs, the listener is forced to sit down and remember their past, the good and the bad. It is a moment of reflection, where tears may be shed or laughs may be shared. His influence is far-reaching as many first-generation Ethiopians, who were born outside the country, have grown up listening to him and have cited him as inspiration (ex. The Weeknd, singer Berhana released a song that sampled Ahmed's hit "Ere Mela Mela"). Click here to hear Ahmed's song entitled "Amalele" with Ethiopian artist, Bezawork Asifaw, and click here to listen to one of his famous Tizita songs.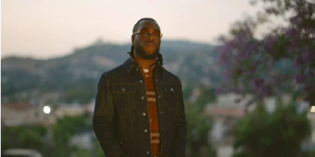 Image Source: Atlantic Records
Last but not least is an artist from Africa that is on everyone's lips: Burna Boy. A product of those before him, he mixes "dancehall, reggae, Afro-beat, and pop" in his songs. He has also worked with artists like Jorja Smith, Ed Sheeran, Stormzy, and the Queen herself – Beyoncé. He was born in Lagos, Nigeria in 1991 under the name "Damini Ogulu." After a friend introduced him to a type of music software called FruityLoops, he "began creating his own beats on an old computer." After dropping out of a university in London, England, he met with music producer LeriQ and began to immerse himself in the music of Nigeria. Burna Boy released his first album in 2013 entitled L.I.F.E to positive reviews by music critics. He slowly began to rise in the music scene with songs like "Streets of Africa" and "Sekkle Down." In 2019, he released his fourth album, Africa Giant, that was later nominated in "Best World Music Album category of the 62nd Grammy Awards." He recently gave an incredible performance with Stormzy at the 2020 Brit Awards that brought everyone to their feet. The stage design, dancers, and music all worked together in generating African pride, something that has not been seen in the Brit Awards before. To learn more about Burna Boy's life click here. To listen to one of his songs, "Ye", click here.
These artists have sung songs that have lifted the hearts of their people, chastised those in power who have committed injustices, and have helped to change the music scene. They have been on the receiving end of love and admiration by those who live in their respective homelands as well as recognition from the international community. Their legacies are connected as the older generation laid the groundwork so that artists, like Burna Boy, could come in and take the torch of African music further in the realm of popular music.