Every culture is extremely intricate. It is the language, food, music, art, and people that make up the soul of a culture. Every culture has a story, which is told by and through those who live it. Every culture has its own specialities, whether that be a certain fabric or spice, and every culture has its differences. However, some cultures have such a rich history and out-of-the-ordinary aspects that set it completely aside from others; one of these cultures is Macanese.
My grandparents were both born in Macau, and raised my mother and aunt there. Although I've never been, I feel a great connection between myself and my culture. My grandparents are a part of the Casa De Macau, a cultural organization connecting the Macanese community that have immigrated. However, there are few young people to carry on the legacy of this beautiful culture, so I feel it's my responsibility to tell the story of the culture to encourage other young Macanese to do the same.
Street in Macau at night (source)
Macau is a special administrative region of China off of the coast of Hong Kong. This means that Macau is not a city, province or country, but an individual region that is technically Chinese territory, but is governed in a very unique way, using the "one country two systems" doctrine. In this system, introduced in the mid-80s by Chinese leader Deng Xiaoping, Hong Kong, Taiwan and Macau exercise a certain amount of autonomy through legislative and judicial power, while China takes care of foreign affairs and defence. Furthermore, Communism is not officially represented in the governments of these regions. This system is completely unique to these three regions, however, because of Macau's century-old history with Portugal, the principle is much more complex than in Hong Kong and Macau.
Map of Macau and China (source)
The oldest evidence of civilization in Macau dates back to around 6000 years ago, while the first documentation of inhabitants occurred when around 50 000 refugees settled in Macau and defended themselves from the Mongols, who were native to Mongolia, in 1277. However, Macau was not a major port until the arrival of the Portuguese during the age of discovery in the 16th century. In 1557, the Portuguese created a walled settlement, which they rented from the Chinese, who technically had jurisdiction of the land from their primary settlement. An official land lease was signed in 1582 and the Portuguese continued to pay this rent up until 1863.
After this, Macau quickly became a major trading port for Chinese and Portuguese merchants. Soon after, Macau was recognized as a Portuguese State of India, which it was known as until 1844 when it was recognized by Lisbon as an official province of Portugal. However, at this point, the Portuguese were still paying rent to the Chinese for the land. In 1848, Portugal kicked the Chinese out of Macau and stopped paying the tax. The Sino-Portuguese Treaty of Peking was then signed by Portugal and China, promising "perpetual occupation and government" of Portugal in Macau. For 450 years, Macau was an a Portuguese "independent" state, until The Joint Declaration of the Question of Macau, in which Macau was handed over to full Chinese sovereignty on December 20, 1999.
Due to the back-and-forth between Portugal and China over the past 500 years, Macau was left with a complete blend of both of these cultures, thus birthing the unique Macanese culture, with both Chinese and European aspects. "It is a city of blended cultures. Ancient Chinese temples sit on streets paved with traditional Portuguese tile. The sound of Cantonese fills the air on streets with Portuguese names."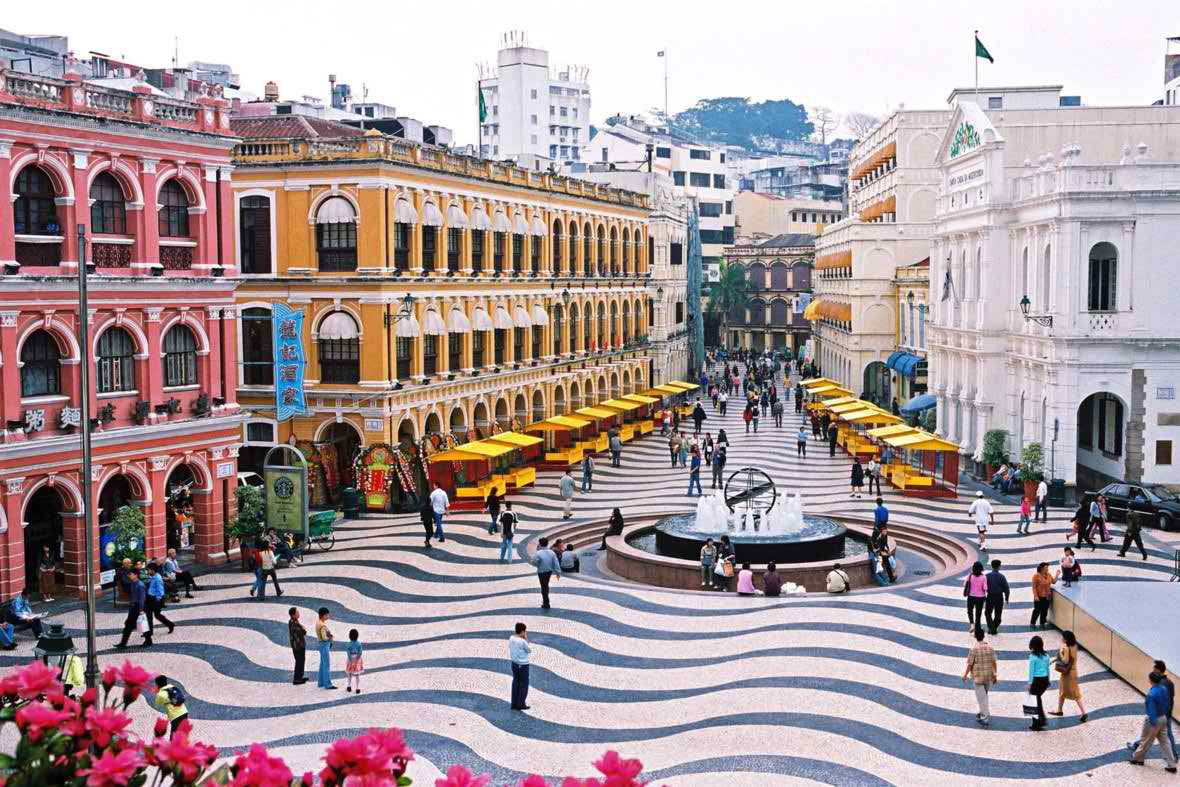 Main Street in Macau (source)
The most important part of Macanese culture is the food. It truly is a fusion cuisine, in which there are European spices on Chinese dishes and Chinese sauces on European meals. These mixed flavours created a very distinct taste for many meals original to Macau. An example of this is Minchi, which is ground meat stir-fried with potatoes (a favourite for our Sunday night dinner). Another popular Macanese food is the pork-chop bun, which is simply a seasoned pork chop in a soft, chewy bun. The most popular Macanese food, however, is the Pastéis de Nata, or Portuguese egg tart. The tart consists of a flaky exterior with a sweet crème brûlée-like interior. I can personally say that this is the most delicious treat I've ever had!
Pastéis de Nata (source)
While food is immensely important to Macanese culture, in every culture language is what keeps it alive. Unfortunately the Macanese language is dying, therefore at risk of the whole culture going with it- unless more young Macanese work to keep it thriving. Macanese Patua or Patois language is a mixture of Cantonese, Portuguese, Indian, African and others, however, it most resembles the Malayan Creole. This language is unique and also known as "Sweet Language of Macau" for its beautiful dialect, and distinct cultural ties: "To understand patois is not only a question of learning its grammar, it involves greater knowledge of a social context. Anyone who speaks patois is also speaking of a certain culture". However, in February 2009, the language was added to UNESCO's Atlas of the World's Languages in Danger due to the fact that less than 50 people speak Patua in Macau today. Patua is truly the soul of the original Macanese, and its dwindling amount of speakers adds to the uniqueness of the culture but the immediacy in which the Macanese culture is at risk of losing it's "soul".
Finally, along with the two extremely important factors of food and language, attractions of the region add to the rareness of Macau. The most major attraction of Macau is the Ruins of St. Paul's. St Paul's was the largest church in Asia at the time of its being built in the early 1640s. The original structure was made of wood, while the façade was made of marble. In 1835, a fire erupted during a typhoon and destroyed everything except for the marble facade, and a staircase leading up to it. Now, the lone-standing façade attracts thousands of tourists to the region of Macau.
The Ruins of St. Paul's (source)
Another, more international attraction of Macau are the casinos, which are responsible for 79% of Macau's total revenue. This is primarily a result of the fact that Macau is the only place in China where casinos are legal, and in part, because of the reputation Macau has been awarded as the Asian Las Vegas. This reputation is only somewhat accurate, however, because Macau has in fact surpassed Las Vegas, with their $28 billion annual revenue from gambling, compared to Vegas' $11.1 billion. The casinos themselves reside on an area of Macau known as "Cotai" which is reclaimed land which attached two other Macanese islands, Taipa and Coloane. This land is comparable to the Las Vegas Strip, as it is referred to by most as the Cotai strip.
Cotai Strip in Macau (source)
Macau is an immensely unique culture, with out-of-the-ordinary food style, language and attractions. Most of all, Macau is unique because of the story that every Macanese has. The Macanese are a group who, after growing up in such a politically and culturally fused society, continue to share the values they learned on their small piece of land off of Hong Kong into the rest of the world. My grandfather, Lourenço Conceicao, wrote his thesis on the handover of Macau, went on to be a productive member of the Macanese government and, after immigrating with his two daughters to Canada, was the president of the Casa de Macau in Toronto. It is the diligence of my grandparents, as well as their countless peers who completed the long, arduous journey of immigration to be in Canada today, that makes Macau so special. This diligence is why Macanese youth must follow in their footsteps, and carry their dreams into the future. The Casa de Macau acts as a lifeline for the first-generation immigrants from Macau, like my grandparents, who have watched their beloved region become starkly transformed as the years of Chinese control continues. The Casa de Macau could, with the effort of young Macanese, become a platform on which we build a new era for the Canadian-Macanese.
This wonderful organization, as well as the many others which celebrate the other wonderful cultures the world has to offer, are the cornerstones of Canadian society as a "cultural mosaic", which it is so often referred to as. All of us, especially youth, must step up and assume the roles in which our parents, grandparents, and ancestors, fought so hard to keep. For me, that means "to preserve and promote Macanese heritage, culture, traditions and life-style in the Portuguese tradition as evolved in Macau", as said in the mission statement of the Casa de Macau.
I hope that everyone cherishes and understands the brilliance of their own cultures, and continues to make them relevant in an ever-evolving society. In an age of social media and instant communication, it has never been so easy to make connections and build relationships.