The killing of 46-year-old George Floyd by police in Minnesota has sparked world-wide demonstrations demanding greater police accountability and police reform. Everywhere, black people are exhausted and frustrated by the incessant assaults on their bodies. The flagrancy of racism south of the border may make it easy to ignore the racism that absolutely and unabashedly exists here in Canada. At a press conference, Premier Doug Ford stated that Canada does not have the same "systemic, deep roots" of racism that America has. Since then, he has retracted those statements. Believing that Canada's history is free of racism dismisses the racial trauma that black Canadians experience. The stories and experiences of black Canadians have either been largely unacknowledged or have yet to be shared. Vanessa Smithers graciously shared her father's story of racial injustice with me. It is the story of Paul Smithers, a 16-year-old black boy who, in 1973, was convicted of manslaughter in the death of 16-year-old Barrie Cobby.
Protestors demonstrate in Washington after the killing of George Floyd (Image Source: NBC News)
THE STORY
Originally from Truro, Nova Scotia, the Smithers had been living in Ontario for some time. On a trip back to Truro to visit some family, Paul was born. When his family moved to Mississauga, he joined the Mississauga Hockey League, where he played for Cooksville. Paul was so skilled at hockey that, by the time he was 16, pro scouts were watching him at his high school games.
"He could've made it to the NHL," says Vanessa. Still, as the only black player in the league, he was often tormented by both spectators and players. "My father always told me that if you're just one of the guys, they don't bother you," Paul, now 63, remembers. "But if you start to be maybe a little better than some of the guys, that's when they notice you and that's when they'll throw that kind of stuff at you." Indeed, Paul's aptitude in different sports seemed to aggravate the racism he experienced.
It all came to a head on February 18, 1973, when Paul and his Cooksville team played Applewood, whose best player was 16-year-old Barrie Cobby. Throughout the game, Barrie, his teammates and spectators subjected Paul to racial epithets, all of which the referees ignored. After spearing Paul, Barrie was ejected temporarily from the game. Paul scored while Barrie was serving his penalty, which only seemed to anger him even more. The two were then engaged in a heated exchange, which lead to the ejection of both players. After the game, Paul demanded an apology from Barrie, but he refused. A few of Barrie's friends held Paul back. In an attempt to free himself, Paul started kicking. It was reported that he kicked Barrie in the groin or stomach area. Barrie Cobby died within minutes from asphyxiating on his vomit.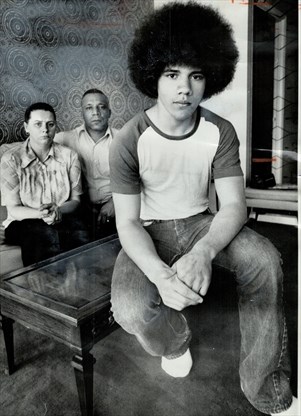 Paul, then 16, with his parents (Image Source: Mississauga.com)
Paul was eventually charged with manslaughter and later convicted by an all-white jury. He was sentenced to 6 months in prison and to 2 years' probation.
WHAT'S RACE GOT TO DO WITH IT?
The prevalence of violence in hockey was not a new phenomenon. A sports sociologist named Dr. Runfola, penned a commentary on the glorification of violence in hockey, citing Paul's incident as an unfortunate example. In fact, the rules around the use and culture of violence were nebulous and inconsistent. Dr. Runfola argued that, because violence was tolerated in hockey, if Smithers had kicked Cobby while on the ice, he would have been punished with a penalty. "Off the ice, he was liable for a term in prison," he writes. That night, the violence between the two opposing teams was exacerbated, however, by the racism that spectators and players alike perpetuated during the game. The climate in which Paul played hockey seemed to encourage racism and normalize racial violence. In an interview published in Weekend Magazine, a black friend of Barrie's defended his use of the N-word, saying "…Oh sure, he called me [the N-word], but it was only joking. And when someone is playing hockey and he is checked by a colored guy and hurt, it is only natural to call him [the N-word]." The use of racist language as a retort to spearing seemed to be tolerated as part of hockey violence and the culture of the game.
The Cobbys, too, seemed to undermine the impact of Barrie's language on instigating Paul. Mrs. Cobby, in particular, was upset with a witness's testimony that Barrie had called Paul a "stupid [N-word]" when she believed it important to distinguish that Barrie had in fact said, "It's only a game, play hockey you stupid [N-word]." As she explains in the interview, the latter demonstrates that her son was only interested in getting on with the game. She dismisses and normalizes her son's use of racist language to acknowledge his passion for the game. Mrs. Cobby seems to exemplify the general tolerance of this culture of violence and aggression in hockey.
16-year old Barrie Cobby (Image Source: The Ottawa Journal)
The ubiquity of racism thus seems to have characterized the social climate in which the all-white jury convicted Paul of the more egregious charge of manslaughter (over assault or even self-defence). As one author at the time opined, "It is sheer hypocracy [sic] to believe that hockey violence, not racism, has resulted in the treatment of Barrie Cobby's freak death as manslaughter." In fact, even though the fatality of Paul's kick could not be ascertained, he was still convicted of manslaughter. While many doctors testified that Paul's kick could have caused Barrie's death, none could say that it did with absolute certainty. The Mississauga coroner, for example, testified that the anticipation of the kick could have just as easily triggered Barrie's vomiting as the kick itself.
In addition to the uncertainty around Barrie's cause of death, there were also reports that one of the jurors was prejudiced against black people. Mr. Cobby had even acknowledged that, not only did he know one of the jurors, but that the latter felt that the "Black [expletive]" was guilty. Mrs. Cobby defended these comments as "nothing improper at all." It is unclear if this is the same juror against whom the allegations of prejudice were made. Paul's former lawyer, who had by then assumed the position of Ontario ombudsman, called for a formal inquiry into the matter. It is further unclear if the Federal Justice Department ever conducted such an investigation.
AFTERMATH
The case of a black youth convicted of manslaughter thus incensed the black community. High-profile American civil rights leaders, like Angela Davis, rallied around him. Even after his conviction, the community remained steadfast in their support. On June 26, 1974, a crowd of about 90 people marched from Christie Pits Park to Queens' Park to protest Paul's conviction. An organization called Friends in Support of Paul Smithers was also created to help raise money for a defense fund for Paul.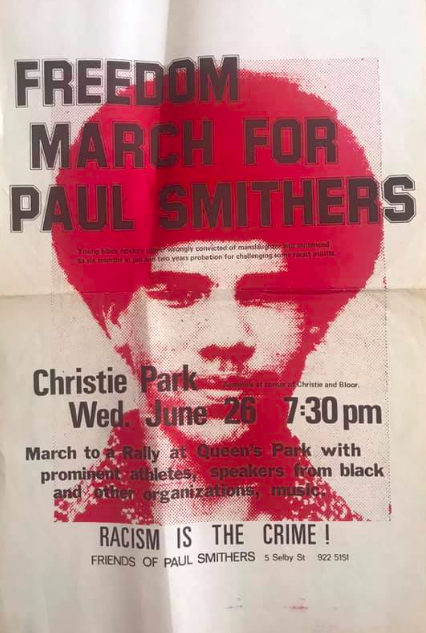 "Freedom March for Paul Smithers" poster (Image Source: Facebook)
The Smithers were advised, however, not to turn Paul's case into a cause célèbre for fear that it would do more harm than good. In fact, Judge B.B. Shapiro, who sentenced Paul, commented that he would not be intimidated by "people not born in this country." Although he believed that Paul was being used to advance the political agenda of foreign radicals, it seems that the community was only expressing their frustration with the systemic racism that Paul's trial and conviction exposed.
TRAUMA
After Paul's release from prison, the Smithers had a difficult time returning to normal life. The family owned a large transportation business that had helped to establish their name in the community. After the public ordeal of Paul's trial and conviction, Vanessa says that it was challenging to rebuild the family name.
Paul experienced significant trauma during this period of his life. While awaiting trial, he often thought to himself about what happened. Even after his release from prison, he still had some difficulty sorting through his feelings. He revealed, "I'll be having fun … Somebody might say "killer" or something. Not meaning me, the "killer" word just comes up, and that would start me thinking again." Because of the trauma of his experiences, he could not continue with his sports endeavours, opting to coach hockey for a short while, instead.
Although early intervention would have been useful to address Paul's trauma, there is a paucity of such follow-up services for Black youth, who, once out of jail, are expected to reintegrate into society. Not to mention, mental health support is a seemingly taboo subject in the black community.
Racism psychologically impacts those who experience it, and has therefore been cited as a social determinant of health, meaning that it serves as a predictor of poor and negative health outcomes. Studies have demonstrated the association between racism and poor mental health. A 2012 study concluded that there is indeed an association between perceived racism and adverse psychological outcomes in black American adults.
WHERE DO WE GO FROM HERE?
Paul's story exposes the racial inequities in the justice system and in society. While this case is taught in Canadian law schools to analyse its legal implications, the role of racism in contextualizing the trial, incidents and aftermath is not considered. It serves as an instance of the grander insidiousness of racism in Canada.
In a recent interview with The Star, Paul eloquently explains why racism in Canada is indeed so dangerous: "In the U.S., you know where they stand with people. […] And if you know how someone feels, you can deal with it," he says. "Whereas ours is a lot more subtle and subversive and you don't always see it. You tend to let down your guard […]" To some, racism in Canada seems to be an obscure and even somewhat vague issue in Canadian culture and history.
Recently, there have been renewed conversations around race and racism in Canada. For example, there has been a re-examination into the treatment and experiences of black youth in hockey. Only recently did the GTHL, the largest minor hockey league in the world, release their data on gross misconduct penalties. During the 2019 – 20 season, there were a total of 195 gross misconduct penalties for derogatory comments about religion, race, and sexual orientation to name a few. Current and former NHL players have assembled to form the Hockey Diversity Alliance, whose mission is to provide more opportunities for underprivileged youth to engage with hockey. The Hockey Diversity Alliance hopes to "eradicate racism and intolerance in hockey." Nevertheless, Canada's history of racism continues to permeate our highest institutions of learning, government and daily life. Going forward, we must ask ourselves how we are complicit in perpetuating racism and what we can do to address, mitigate and, one day, finally put an end to it.
(Special thanks to Vanessa Smithers for sharing her father's story with me.)