I first held a boy's hand when I was thirteen. You would think that it was not a big deal. But it was 2010 in China, a society where well-brought-up girls stay away from boys until they are 20 years old and ready to get married. My homeroom teacher found out. She asked if I initiated the act. I bravely nodded and, for comic relief, told her that our feelings were mutual.
Little did I know the consequence of my honesty. I was scolded in front of the whole class. My middle school sweetheart was too. But I had it a lot worse because being the girl, it was my job to avoid any physical touching. Both our parents were summoned for a meeting. After that, I became the target of public censure in my school for this "unprecedented act of indecency." The overwhelming sense of shame and guilt left an indelible imprint on my memory. I never spoke to my little boyfriend again, or any boy for the rest of middle school. I became just another silenced and disillusioned teen. My energy and identity shrunk to the fear of being different.
Now a decade later, I can still see the withering glares flashed at me in the teachers' office and hear the unfounded gossip circulating in the hallway at recess. I was left alone in the bottom of a gutter, looking up at everyone else riding high in the sky on their moral pedestal.
Boycott the Culture of Shaming
I grew up in a culture afflicted by the remnants of feudal times. Instead of sex-ed, they started slut-shaming young. Our sexuality is stigmatized as shameful and should never be seen. Therefore, sex is a taboo topic. Medically accurate sex-ed is not accessible in the standard public education curriculum. In middle school, everybody got really excited about the illustrated genitalia in the biology textbook. In lieu of teaching us important information regarding reproductive health, the teacher emphasized the importance of memorizing the names of genitalia for the upcoming exam. That summed up the sex-ed I got from the Chinese public education system.
Any culture that cultivates shame or guilt regarding sexuality is a weaponized tool used to make rather small individuals subservient to control, taking their power away and muffling their voices. If society wants to shame people who are unabashed by their sexuality and call them "sluts", let us celebrate the word "slut." To redefine "slut" as someone who is sexually educated and autonomous, we reclaim our right to use the term in an empowering way.
Image source: Jordan Gray Consulting
It was only later that I realized slut-shaming and the lack of standardized sex-ed are not confined to China. My perspective as a Chinese woman is narrow so I started talking about sex with people from different walks of life around the world. Unfortunately, many had similarly harrowing experiences. My Singaporean high school friend was told by her parents to not have sex otherwise she will get pregnant and die. During my college years in Canada, I got to know my share of people getting STIs (sexually transmitted infections) due to lack of knowledge and awareness. As a full-fledged registered nurse, I often feel inadequate in terms of navigating the sexual aspect of my patients' health in an all-embracing, informative manner. Because my own nursing education regarding sex was reduced to disease-focused rock and science, stripped of diversity.
No matter where I go, sex talk is off the table. People, especially women, get slut-shamed for having consensual sex. It always puzzles me why we avoid sex talk like herpes. Meanwhile there is compelling evidence that in Canada, STIs are on the rise among young people because of subpar sex-ed. Whether society acknowledges it or not, people have sex. While asexuality exists, sexual desire exists within most homo sapiens. If wanting to be held by someone and taking their clothes off is not sexual desire, what's flowing in your veins must be red bull. Denial and silence accomplishes nothing but steering us away from practicing safe sex.
Before we can understand how to navigate the sexual aspect of our identity, we have to first look at our sexual self right in the eyes and accept it. Safe sex between consenting adults is not disgusting. Slut-shaming and STIs are. By saying no to the culture of shaming, we can respect our whole self and nourish the sexual being within us. Transposing shame to acceptance is the first step toward being educated about sex.
Inclusive Sex-ed is a Human Right
Inclusive sex-ed is not only about intercourse and reproduction, but also anatomy, consent, STI prevention, sexual orientations, gender identities, healthy relationships, prevention of gender-based violence etc. The goals of inclusive sex-ed include but are not limited to achieving sexual health, living our truths and challenging heteronormativity.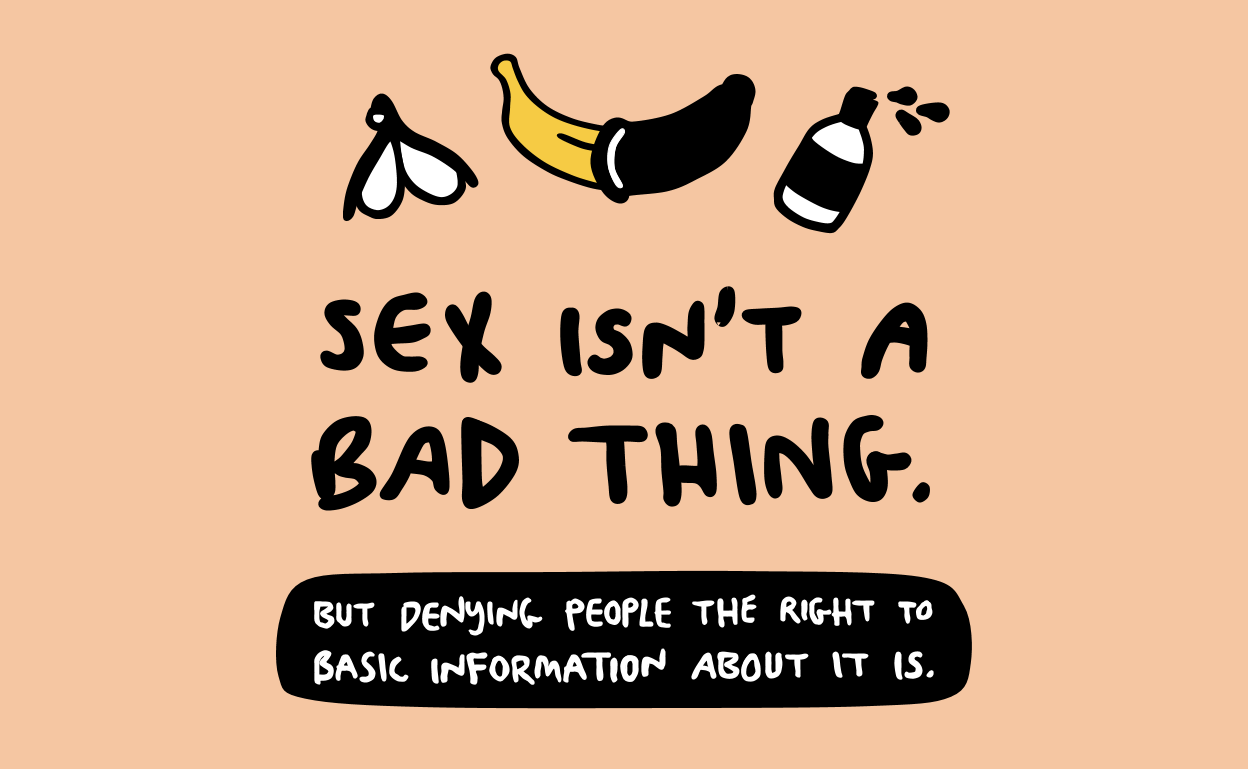 Image source: Pleasure Pie
Many renowned global organizations including WHO (World Health Organization) and UNESCO (United Nations Educational, Scientific and Cultural Organization) recognize comprehensive sex-ed as a human right. Why? Because science says so. Contrary to the popular belief that sex-ed is harmful to youths, research has offered indisputable evidence that high-quality sex-ed empowers young people by:
delaying initiation of sexual intercourse

reducing sexual risk-taking

encouraging condom and contraception use

enhancing knowledge about the lived experiences of the LGBTQ+ community

developing a positive attitude toward sexual health
With that being said, how can we deny youth the essential information they need to achieve sexual well-being? Why don't we already live in a world where sex-ed is a given? Because there exists deep-seated trepidation toward sex-ed that is passed from generation to generation. Many opponents of sex-ed hold the false claims that sex-ed pollutes the minds of innocent children, making them initiate sexual intercourse earlier, get pregnant, and turning straight children gay. Despite the sound scientific proof suggesting otherwise, such irrational fear persists. When we leave teens in the dark about sex, we further perpetuate the stigma and lack of knowledge around sex. It is time for my Gen-Z peers to eradicate this vicious cycle. If the public education systems continue to deliver fragmented, substandard sex-ed, we have to take it upon ourselves to fill the gap.
Self-education
What can we do when there is no safe space to learn about sex? We turn to the media, which is filled with misinformation. Most porn flicks portray sex in an unrealistic and misogynistic manner. Misled young people who behave like porn stars would make horrible sex partners. Those who are programmed to think they don't deserve pleasure can hardly voice their sexual preferences and truly enjoy the deed. Under the influence of pop culture, media contents packed with reckless sexual behaviours make carrying condoms around seem unsexy. However, STIs are even less sexy.
Image Source: Action Canada for Sexual Health and Rights
Fortunately, many online sex-ed platforms that emerged in recent years are great resources. My favourite is the website "Killer And A Sweet Thang (KAAST)." The articles featured on KAAST shed light on sex, relationships, health, identity and everything essential that parents, teachers and friends don't normally talk to you about. This is a platform established and maintained by young people for other young people. I personally find their contents both relatable and empowering. They also have a podcast named "Pillow Talk." Sex educators and founders of KAAST host the podcast with genuine respect, de-stigmatizing sex and representing the diversity of sexual experiences.
While KAAST focuses on individual experiences and promoting the sex-positive movement, Action Canada for Sexual Health and Rights is a platform filled with evidence-based information about reproductive health. For Canadians who require immediate sexual-health-related assistance, they have a 24-hour toll-free information line: 1-888-642-2725.
If I could go back in time, I will tell my younger self that she was not as unbecoming as what people said she was. Now ten years later, I am still unlearning that shame. If our generation can become sex-positive and sexually educated, we can protect future generations from the misery engendered by sub-optimal sex-ed.