Rooftop gardens are a popular urban agricultural trend that has seen increasing growth across Canada – especially in downtown Toronto, where they perfectly contrast the busy lifestyle in the area. An aerial view of downtown Toronto will showcase rooftop gardens existing on some of the most noteworthy buildings, including the City Hall, Fort York Library, and Toronto Dominion Centre. In fact, Toronto is now known as the leading green roof city in North America.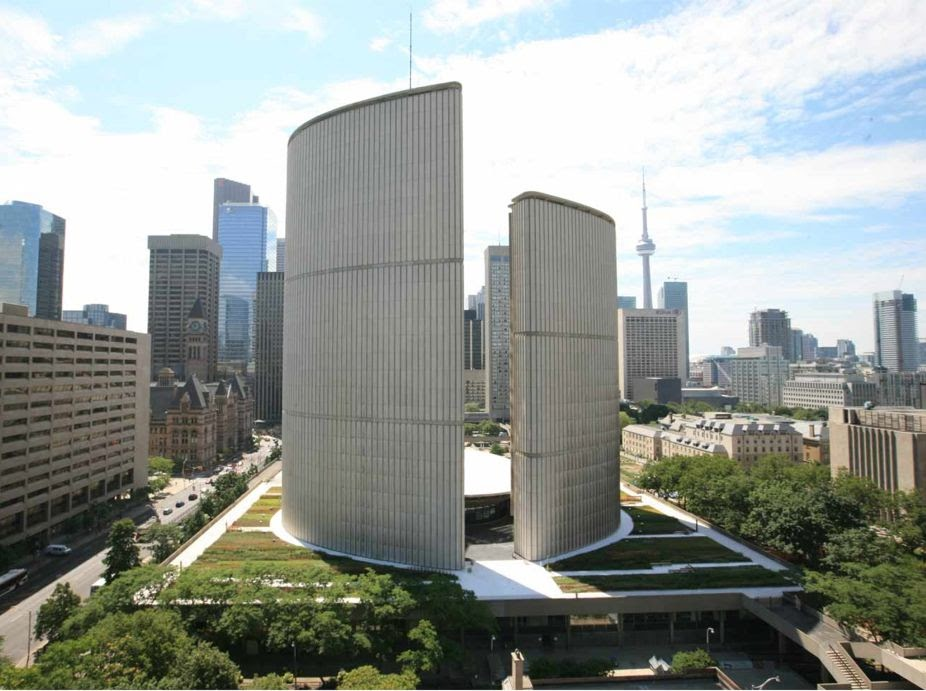 The rooftop garden at Toronto City Hall (Image Source: Green Roof)
However, despite their aesthetic appeal, rooftop gardens remain a controversial topic among urban planners. Opponents of rooftop gardens center their argument around feasibility and expenditure, while proponents of rooftop gardens focus on the environmental and health benefits.
Rooftop Gardens are Stylistically Pleasing, but Structurally Compromising
Starting with the downsides, extensive layering and covering between the rooftop deck and soil are needed to prevent and/or minimize damage from water and soil leaking through to the building's infrastructure. Not only does this present extra costs, but leakage from the rooftop garden can still occur if a screw, nail or gardening equipment punctures the covering.
8 underlying layers are required to ensure a safe rooftop garden (Image Source: ScienceDirect)
There are also additional costs affiliated with setting up the drainage system required to maintain water levels on the rooftop garden after it is completed. Unlike typical gardens, the drainage system for rooftop gardens is much more complex, since it must ensure no water seeps through crevices in walls or trickles down the sides of the buildings.
Structural limitations are another common shortcoming of roof gardens. Soil and pots collectively add a significant amount of weight when they are laid down in gardens; adding to this weight are the plants when they grow; hence, it is very difficult to have trees or a great deal of plantation on rooftop gardens, because the building structure might not withstand all the weight and collapse. This means that the plants for rooftop gardens are selected carefully because choices are limited to decrease weight. An extensive list of constraints proposed by opponents of rooftop gardens is illustrated in the figure below.
Image Source: ScienceDirect
Due to these limitations associated with rooftop gardens, governments and organizations are hesitant to fund such projects due to their expensive pricing in developed areas, like downtown cores. For instance, the cost of rooftop gardens in India is 3-5 Canadian dollars per square feet, while the cost of the same area in Canada is 12-15 Canadian dollars.
Peaceful and Purifying: The External Benefits of Rooftop Gardens
Environmental and agricultural research is now taking a turn. Unbiased and critical research done on rooftop gardens has shown that the benefits are numerous and outnumber the drawbacks. This is because proponents of roof gardens have supported their arguments with examples of long-term environmental and economic benefits.
The primary benefit of rooftop gardens is their participation in improving air quality. In an urban city like Toronto, air quality is of major importance. A green roof can decrease the levels of sulphur dioxide by 37%, nitrous oxides by 21% and dust particles by 0.2 kilograms per square metre annually; all of which are major air pollutants.
Green roofs also reduce the heat entering the building during the summer and prevent heat loss during the winter. This is because, in summer, green roofs act as a barrier to prevent solar heat from entering the building and in winters, the roof gardens minimize heat loss with added insulation. Research has found rooftop gardens to reduce temperatures by up to 3ºC. Rooftop gardens also use rainwater more effectively, as they can retain 80% of rainfall in summers and 40% in winters, meaning less water enters the storm drain.
How Rooftop Gardens work to reduce heat transfer and water loss to the building (Image Source: EPA)
Aside from acting as a "cleanser" for the environment, rooftop gardens can also provide a tranquil oasis for the busy individuals of downtown Toronto, which is home to a majority of businesspeople. In this regard, rooftop gardens also serve to promote serenity, as they decrease noise, provide an alternative hangout spot and boost an individual's mood. Overall, this means that rooftop gardens can not only improve physical health but also improve mental health.
Rooftop Garden located on 401 Richmond Street in Downtown Toronto (Image Source: Urbanspace Property Group)
So, is there really a need for green roofs in this increasingly polluted world? In a city like Toronto, rooftop gardens have been proven as successful urban agriculture in their purpose of promoting better, safer and greener living. Multiple research reports have concluded that besides major costs, there are no large concerns that are commonly associated with building a rooftop garden and even these costs can be seen as investments because rooftop gardens can significantly increase the value of a building. While the feasibility of rooftop gardens has been called into question, this complication can be minimized with regular maintenance.